Some casino games offer you only a couple of betting options. On the other hand, there are casino games where all possible betting options can make you give up before you have even tried to play them. Craps fall into the second category, and we are here to help you overcome the challenge of choosing the right bet.
Here, on the OnlineGambling24 site, you can find the tips and tricks to play Craps online like a pro. Although you may not feel the genuine atmosphere like you would at a brick-and-mortar casino, playing Craps on the web can still provide you with loads of excitement and fun, especially if you are successful at it. Stay with us to learn how to become a successful Craps player!
Understanding Craps Table Layout
Before we introduce the best Craps bets to you, we have to make sure you understand the table layout. It does not differ from a table you can join at a land-based casino. Most online craps tables come in green and red to resemble land-based counterparts. They are divided into different sections with each one of them representing the corresponding betting option.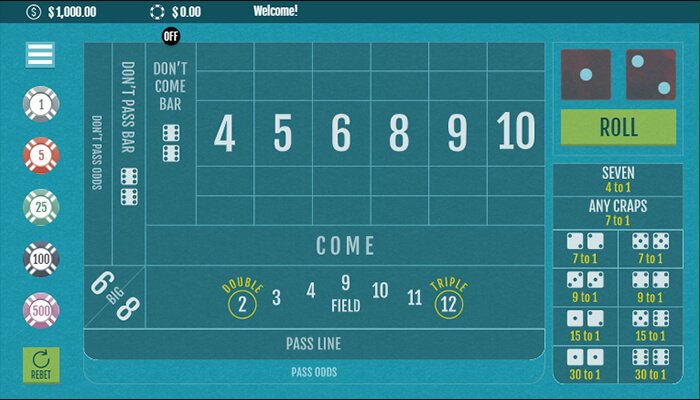 The biggest difference between the versions is in the absence of casino employees that are placed around the physical table to monitor and operate the game. At online casinos, you can play only RNG-operated Craps as this game has not been made available at live dealer tables yet. Unfortunately.
Best Craps Betting Options
Knowing which wagers you should make at a Craps table makes all the difference. Here are the ones that come with the best odds of winning:
Pass Line/Don't Pass

The Pass Line bet is by far the most popular due to a house edge of 1.41% only. Players have only four ways to lose, which happens when 2, 3 or 12 appear on the come-out roll or when a 7 is rolled out after the point number has been established.

The Don't Pass bet functions in the opposite way. It earns you a prize when a 2 or 3 is a come-out roll and loses when it is a 7 or 11. If a roll shows a 12, the result is a push. Any other number that appears is taken as the point. The Don't Pass bet also has a low house margin of 1.36%.

Come/Don't Come

These two bets function in the same way as the Pass/Don't Pass bets. The Come bet can be played after the point has been established. It wins when a 7 or 11 is rolled out after the Come bet has been placed. When 2, 3 or 12 shows up, the bet loses. The Come bet provides you with higher chances to win, which makes it one of the most favourable bets to the player.

Just like the Come bet, you can play the Don't Come bet when the point has been made. It pays when a 2 or 3 is rolled out and pushes on a 12. Other results will establish your point number. Again, we have a bet with a 1.41% house edge.