Keno is usually played at a modern online casino nowadays, but some lotteries offer it in their package as well. The game is pretty simple to play. Players are required to bet on several numbers ranging from 1-80.
They mark their choices, 20 numbers are randomly drawn and compared to the numbers players have marked on their tickets.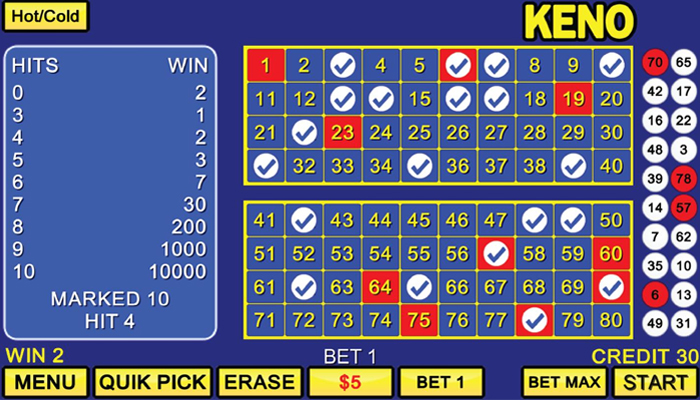 It's not unlike the lottery or bingo at all, except it comes with a few different rules. Keno is a pretty old game dating back to ancient China. So in a way, it can be considered a precursor to modern bingo games.
What are the Rules of Keno?
As the world's first lottery game, the rules are pretty clear. After being promoted by Chinese workers on the Intercontinental railroad, keno started attracting many fans in America. It was quite popular in Texas in the XIX century and eventually found its way to Nevada, the world's gambling capital.
The popularity grew even more and thanks to the profits it brought to Nevada casinos. Other states reformed laws in order to allow keno in their casinos. With a few rule changes, keno found its way into American culture pretty fast.
Although confined to casinos, the numbers game inspired the birth of bingo which has enjoyed huge success in the USA. Also in Europe. Both games are played in a similar fashion. But Their is a difference. The the fact that players choose their own numbers in keno instead of assigned ones. A regular keno card has 80 numbers, with players marking as many numbers as they want. They then give the ticket to the clerk in a keno booth and receive a receipt – just like playing bingo.
The Numbers You Pick
In general, players pick around 20 numbers, but this depends on the casino you're playing in. Some online casinos have a limited numbers players can choose. The prizes are displayed on a paytable. The biggest prize is awarded to the player who has all the winning numbers (20) on their ticket. Chances for this to happen are also the lowest at 1:3,535,316,142,212,174,320. If you were ever wondering why the main prizes on lottery tickets are so big, there's your answer.
Once players have made their choices, they wait for the winning numbers to appear on a screen. They mark the ones that match their own on the card. The winnings according to the paytable are based on the correctly predicted numbers. When a player wins, he takes the ticket back to the keno booth where he receives his prize. Drawings take place every 5 minutes or so, so players should be quick to check their tickets and get their prize before it is voided.